Grand Staircase Escalante Field Center
General Information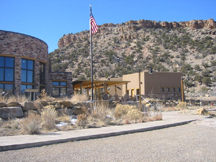 The Grand Staircase Escalante Field Center is in the developmental stages. The Center will be open to all universities, researchers and educational institutions. The Field Center will be operated as a cooperative endeavor between the Bureau of Land Management and the Grand Staircase Escalante Partners.
With its creation in 1996, the Grand Staircase Escalante National Monument became a 1.9 millon acre laboratory offering unparellel research opportunities for geologists, paleontologists, archeologists, historians, biologists and social scientists. As the last place to be mapped in the United States, the area still retains its untrammeled, unexplored and wild nature.
Selected Research
A website to distribute info on past research endeavors is being developed at this time.
Contact Information
Melanie Boone-Reznick
This e-mail address is being protected from spambots. You need JavaScript enabled to view it
Location
Garfield County, Lab facilities located in Escalante in Interagency Visitor Center
Headquarters:
37.77 N latitude, 111.6 W longitude
Size
1.9 million acres
Elevation
1096-3048 m (ave. elevation 1524 m)
Annual Precipitation
246 mm
Minimum and Maximum annual temperatures
Jan. 40.5°F max and 14.1°F min
July 88.9°F max and 54.3°F min
Facilities
Laboratory, library, office and auditorium.
Overnight facilities
Planned
Personnel
Planned
Databases
Planned
Established
2009