Lytle Ranch
General Information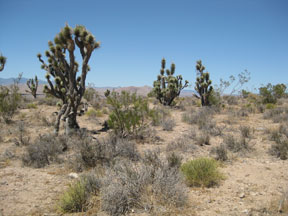 The Lytle Ranch Preserve is located where Great Basin, Colorado Plateau, and Mojave Desert converge, the Preserve provides students, scientists, and visitors with a unique opportunity to enjoy and learn about a remarkable biogeographical region. The Lytle Preserve is closed on Sunday.
Selected Research
Ian Baldwin of the Max Planck Institute in Jena Germany has been conducting plant herbivore and pollinator research at the Lytle Preserve for more than 10 years. His work at the preserve has resulted in more than 39 peer reviewed publications. Brigham Young University and the Max Planck Institute have collaborated in establishing a research facility including research gardens at the preserve to support this work.
Sam St. Clair, Zack Aanderud, Steve Peterson, and Brock McMillan of Brigham Young University are examining factors that contribute to the emergence of invasive plant/fire cycles and the ecosystem consequences of fire-related changes to the Mojave Desert ecosystem.
Randy Larsen, also of Brigham Young University, is conducting research to assess the effects of: Wildlife water developments on Gambel's quail as well as recent wildfires on their habitat use and selection.
Contact Information
M.L. Bean Life Science Museum
290 MLBM Brigham Young University
Provo, Utah 84602
801-422-5052
mlbean.byu.edu
Location
45 miles northwest of St. George, Utah
Headquarters: Latitude 37.0837 N, Longitude 114.0119 W
Size
600 acres
Elevation range
850 m
Annual Precipitation
237 mm
Minimum and maximum average temperatures
January – minimum 28.6°F; maximum 56.4°F
July – minimum 60.1°F; maximum 100.2°F
Facilities
Campsites (no electricity); restrooms and showers are available
Personnel
On-site resident manager (Heriberto Madrigal)
Databases
Climate data
Species lists are available for – mammals, birds, amphibians and reptiles, and vascular plants. A list of lichen species is in preparation.
Established
1986